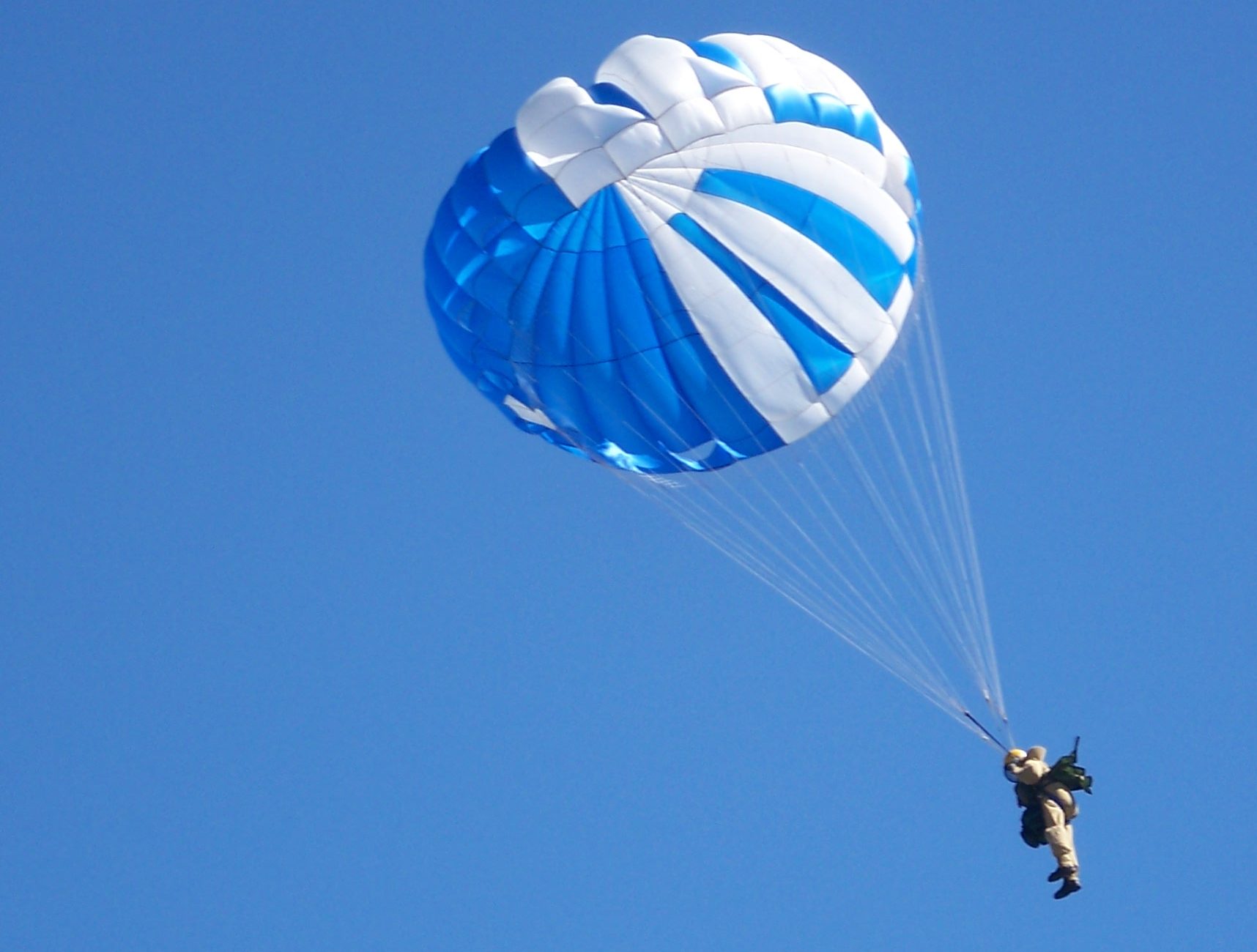 Smokejumpers are an initial attack resource whose primary method for arriving on scene is a bit more dramatic than most: they parachute in. Outfitted in a suit that looks a bit like an EOD technician wearing a football helmet, these guys and gals are some of the toughest, most experienced firefighters in the wildland community.
As an initial attack resource, their mission is get to a fire as quickly as possible and keep it from getting any bigger. Smokejumpers have a notorious reputation for doing the bare minimum when it comes to fireline construction. Hotshots love to take snipes at smokejumper line as often times being just a grade above a game trail, but it is not the smokejumpers job to build a fireline that will withstand a fiery Armageddon. That's what hotshots do. Smokejumpers are supposed to ring a fire as quickly as possible, which oftentimes meaning putting the smallest amount of line in that will hold. They would rather get the fire wrangled with chicken scratch line, versus cutting bomber line around just a quarter of it. The work that they do in the first 24 or 36 hours can determine whether a fire is contained at 10 acres or blows out to 10,000. By keeping the fire at bay, they are able to buy time for extended attack resources to arrive on scene, like hotshot crews. Once the hotshot crews arrive, they will often times start by reinforcing the control lines cut by the smokejumpers. While hotshot crews certainly do their fair share of initial attack, it is not their primary mission specialty.
The first fire that I was on where I crossed paths with smokejumpers was in Western Colorado, and the jumpers had fought the fire for 24 straight hours, and had done a great job of keeping it under 200 acres. When we arrived, I couldn't believe that there couldn't have been more than seven or eight of them. How had these guys been able to wrap up a 200 acre fire? It amazed me how effective they could be with so few people.
As we went out to secure the line they had cut it, I also couldn't believe how differently their approach to line cutting was to ours (and by ours I mean a Type 2 crew). First starters, it wasn't continuous. Which was mind-blowing to me. It looked as if they had just raced along the fire's edge, and cut ten or fifteen foot sections to cut off fingers where the fire was advancing more quickly. The check line they put in was little more than a few licks with a pulaski. Just enough to create a critical separation between the green and the black. And then there was the line gear – they weren't wearing any! And of course no one had their gloves on either. It was quite apparent that these guys and gals had their own way of doing things and they did it with style and swagger. But the best was yet to come. Later that morning, I was refilling a bladder bag near a helispot the jumpers had constructed to ferry cargo in and out. While I was refilling my bag, a helicopter was on approach, so I stuck around to watch it come in. It hovered over the helisopt for a moment, maybe 20 or 30 feet off the deck, and a jumper casually sauntered out till it seemed like he was right under the belly of the chopper. He looked up and signalled to the pilot, who nodded and then tossed something out of the window. The jumper caught it, and as he walked off the helispot, the chopper flew away. I was confused. What the hell just happened? Did that pilot really just fly all the way out here, just to chuck something that small out the window? It must have been something super important. By now, I could see what the jumper was holding, and I couldn't believe it. It was a log of chewing tobacco. These guys were so badass that helicopters literally delivered them fresh chew on the fireline.
Ever since that day, I've had nothing but respect for smokejumpers. Those guys know how to roll.
Besides jumping out planes, what exactly do Smokejumpers do?
It doesn't matter if you're a smokejumper with the Bureau of Land Management or the Forest Service – the job is the same. And while the method jumpers use to arrive at a fire is a bit sexier than driving or hiking, once they're on site, they're fighting fire like any other resource would. Depending on the resource request, and type of planes available, there will be 8, 10, 16 or 20 jumpers available for deployment. What makes them special is what they can do once they arrive.
According to the US Forest Service Smokejumper User Guide, jumpers are capable of providing the following services:
Initial Attack

– A fire is reported, and it needs to be fought aggressively. More often than nought, it's faster to fly smokejumpers in than to get a hotshot crew or engine crew to drive to it and hike in.

Initial Assessment

– "When a new fire start needs rapid intelligence gathering to support strategic decision-making." This is particularly important now since we've moved away from the 10am Policy (all fires extinguished by 10am the next morning). As fire managers look for opportunities to reintroduce fire to the landscape, putting a couple of smokejumpers on the ground can help them decide whether or not the fire should be fought. Are structures threatened, etc.?

Multiple Fires

– "When multiple fire starts have all local resources committed to initial attack." Smokejumpers can literally fly in and save the day. Or at least help provide incident command team with assistance in triaging fires by complexity and priority so that resources can be distributed appropriately.

Emerging Fire

– "Securing adequate resources in a timely manner can make the difference between an extended attack fire and an escaped fire. Smokejumpers can establish a type III incident management team, coordinate operational objectives, manage arriving resources, and if necessary, facilitate a transition to an Incident Management Team." Pretty straight forward. While smokejumpers are famous for being able to cut line for days, often times the most impactful contribution they can make is the wealth of experience they bring, and their minds. They're capable of managing the logistics necessary if a fire ramps up to "campaign fire" complexity.
Also, smokejumpers often times get detailed on to some pretty cool special projects. Many years ago they were in New York City and Chicago, using their tree climbing skills to do some arborist work in their city parks. Also, when I was on a fire in Idaho, Smokejumpers were literally using detonating cord to blow up hazard trees and construct fireline.
What sort of previous experience is required?
Smokejumping is not an entry-level position. You must be able to qualify as the GS-5 level as a Firefighter Type 1 (FFT1). , which usually means at least 2 years of previous fire experience. However, you're not going to squeak through with just the bare minimal amount of experience. Due to the overwhelming number of applications they receive, in practice, to be 'in the running' for a coveted rookie slot, you'll need at least three or four years of experience. And not all experience is created equal. If they had to select between someone with 5 years of experience on an engine crew, or 5 years of experience on a hotshot crew, they would choose the hotshot everytime. According to the North Cascades Smokejumper Base website, "Hotshot crew experience is optimal."
And surprising to most is that previous parachute experience is not required nor particularly advantageous. They will teach you everything. What is most important is that once your boots hit the dirt, you're a capable, well-qualified, experienced firefighter. Focus on qualifications and getting as much fire experience as possible to give yourself the best chance of landing a job.
Training
Rookie training is notoriously challenging. Typically it spans 4-5 weeks. Though the California Smokejumpers have a six week rookie training period. According to the California Smokejumpers' website, rookies can expect "long days of both mental and physical output." Here's how they describe a typical "Day in the Life" of a Rookie California Smokejumper:
A typical day during rookie training:
Morning physical training (PT) session which includes calisthenics and/or running

Classroom time covering topics such as parachute manipulation, tree climbing, CPR/First Aid

Pre-field exercise briefings and post exercise debriefings.

Typically the day will end with an afternoon PT session of more calisthenics and/or running.

Candidates are expected to stay flexible throughout rookie training, as things can quickly change.
Field Exercises:
Tree climbing

Chain Saw & Cross-Cut Saw training (you can't bring gas-powered saws into wilderness areas, hence cross-cut saw training.)

Land navigation

Leadership exercises

Airplane exits & parachute landing falls (PLFs)
Smokejumper Unit Trainings:
These are modules that must be successfully completed in order to convince your new bosses to let you actually jump out of a plane for the first time.
Pre-jump Aircraft Procedures

How to correctly exit (jump) from the plane

How to safely perform a parachute landing fall (PLF)
After completion of the Smokejumper Unit Trainings. Rookies embark on making their required 15 practice jumps. And of course, each jump is progressively harder.
This Sounds Awesome. Now tell me – where are these smokejumper bases?
Missoula, MT

Grangeville, ID

West Yellowstone, MT

McCall, ID

Redding, CA

Fort Wainwright, AK

Winthrop, WA

Boise, ID

Redmond, OR
During the season, fire managers will often times pre-position (or stage) smokejumpers on airfields across the US where fire activity is expected to be higher than usual. Jumpers could find themselves staging at these "spike bases" for a couple days or even a couple weeks or more. As with anything in fire… it all depends on Mother Nature.
Spike Bases in 2017
Lewiston, ID

Silver City, NM

Albuquerque, NM

Miles City, MT

Winnemucca, NV

Medford, OR

LaGrande, OR

Porterville, CA

Fresno, CA
Previously Used Spike Bases:
Vernal, UT

Price, UT

Moab, UT

Pocatello, ID

Salmon, ID

Santa Fe, NM

Prescott, AZ

Cannon City, CO

Durango, CO

Elko, NV
Are There Different Roles? Or is Everyone a "Smokejumper"?
Yes there are four roles within the smokejumping world. This does not include "operationally-focused roles" like loft personnel (people who work in the smokejumper loft and prep the parachutes and gear) and base managers, etc.
Rookie Smokejumper. All first year smokejumpers are rookies. They will be qualified at the Firefighter Type 1 level, and be certified as a Type 5 incident commander (ICT5).
Smokejumper. A smokejumper will be certified at the ICT4 level (Type 4 Incident Commander), and will be crew boss and fire boss qualified. Furthermore, they might be actively pursuing their FEMO Task Book (Fire Effects Monitor).
Senior Smokejumper. These guys and gals will be qualified to at the Strike Team and Task Force leader level, and might also be working towards certifications in parachute rigging or field observer (FOBS).
Spotter. A senior firefighter in charge of smokejumper missions. Managing communications is a big part of this job. This person handles communications with the incident commander on the ground, communications with the pilot, and also helps coordinate the airspace above the fire. Additionally, the spotter will be the one to to pick out the jump spot, kick out streamers to monitor winds over the fire, and is keeping an eye on fire activity on the ground. A spotter will be qualified at the Type 3 IC level, and will have other advanced quals like Prescribed Fire Burn Boss Type 2 (RXB2) Safety Officer, Division or Air Tactical Group Supervisor (ATGS).
Because of these advanced qualifications, smokejumpers will regularly be detailed out as single resources to either a.) assume a role they are qualified for (task force leadver, division supervisor, etc.) or b.) participate in a training role in an effort to get more fireline experience in pursuit of some of these qualifications.
Hiring Process:
Landing a job as a smokejumper isn't something that one does on a whim. It takes years of specific experience to build up to the minimum requirements. And once you finally have that experience, you're looking at another 7-8 months from the time you submit your application to your first day of rookie training.
A few more things before we get any farther along:
Are you under 5' tall?

Are you over 6'5"?

Do you weigh less than 120 pounds or more than 200?

Are you color blind?
If you answered yes to any of those questions, I have bad news for you. You're not going to be a smokejumper. A medical examination is required for all smokejumpers, and includes a vision and hearing test to verify that candidates meet the medical requirements.
Step 1: Find a Job Posting
There are only two agencies that hire smokejumpers. The Forest Service and the Bureau of Land Management. Both those agencies post their job openings on USAJobs.gov.
The Forest Service will generally post their positions as early as September for openings in the following summer. In 2018, Rookie Smokejumper Positions were open for Application from 9/10/2018 to 10/10/2018.
The BLM will generally post opportunities in Mid-October and keep them open through the first of December. However, these dates vary. In 2018, the BLM's rookie smokejumper job posting for Boise, Idaho was live from October 22nd – December 4th.
It wouldn't hurt to setup a Google Alert for smokejumping job postings. Also, monitor the different social media accounts and websites for the smokejumper base (s) that you're interested in.
Step 2: Submit Your Application
You will need to create an account on USAJobs.gov, and the create an applicant profile prior to submitting an online job application. Though honestly, if you're applying for a smokejumper role, you've probably already done this before.
Step 3: Wait
An HR specialist will review all the applications received to determine that each application has met the minimum requirements. Then there is the initial phone screen. What will be discussed? According to the Alaska Smokejumpers' website, "In the interview, the applicant's experience level, physical fitness, and their reasons for applying are discussed in detail." Then, the team will conduct reference checks. During the reference check process, they will ask previous employers about the following:
"Work attitude, work performance, ability to effectively work with others, and ability to deal with a variety of stress factors."
Then, all applications are rated based on the following:
– Length of Experience
– Quality of Experience
– Personal Interview
– Supervisor's Recommendations
And that's it. You will not be flown in for a full-day of onsite interviews. Honestly, you might not even meet anyone in person during your interview process. Your success will be determined primarily by the strength of your previous experience, your supervisor's recommendations, and your ability to make them believe you'd be a good culture fit.
Step 4: The Decision
A Hire / No-Hire decisions will be communicated starting as early as February 1st, and mid-April at the latest.
Step 5: If Hired, Get a Physical
After you are selected, you will be required to undergo a medical examination by a licensed physician and your results must be returned to the hiring base for review.
Step 6: Figure out your report date
When does the season start? Historically, rookie training starts in April, experienced jumpers return in May, and jumpers are available for assignment by the beginning of June. Also, in case you were wondering, it typically runs through September. After October 1st, smokejumper bases begin downstaffing, and availability declines. During October, many smokejumpers find themselves helping with special projects or prescribed burns, etc, wherever they're needed most.
What Are They Looking for during Interviews?
Are you a tactical athlete? Are you in great shape? Not good shape. But great shape. They only want the best. Are you running triathlons? Competing in GO RUCK events? Doing century rides? Climbing big mountains? Those are the types of folks that this job attracts.
Are you a quick study? They're going to need to feel pretty darn confident that you'll be able to learn how to fly a parachute and land it in the forest after about a month of training.
Do you have a good attitude? No one wants to be stuck in the middle of nowhere with a whiner.
Are you cool under pressure? You might land in a tree. No joke. That happens. That's why they're dressed like an extra from the Hurt Locker. And if you're jumping in California or Washington, there's some big damn trees there. So how are you going to get down? Well, there's a whole let down procedure that you will learn and practice. But not everyone is cool with rappelling out of a tree near a forest fire.
Will you be a good teammate? The smokejumper community is tight knit. There is an esprit de corps, and a sense of community that is stronger than anywhere else in fire. Smokejumpers are fiercely proud to be smokejumpers. And they don't take lightly the invitation to join their ranks. They want people who who fit their culture, who are selfless and mission-driven. If you're just in it for a t-shirt, run a 10k.
Can You Operate Solo? While being a good teammate is important, so is being self-reliant. There's no tandem jumping in this line of work. And only one person can you down to Earth safely – you. And if you land in a tree – you're going to have to get yourself out of that jam on your own. And since they operate with such small teams, you need to be comfortable operating around an uncontained wildfire by yourself. You need to have sold situational awareness.
Are You Adaptable? Can you handle sudden changes of plan? If you just want to run a chainsaw all season, smokejumping isn't for you. You're going to play different roles on different fires – heck you might even be toggling between roles on the SAME fire. Are you cool with downtime suddenly punctuated by a siren and a command to get on a plane in under 10 minutes? If you aren't, smokejumping may not be for you.
Are you Purpose-Driven? If you're a glory hound just looking for a new belt buckle and some good stories to tell at the bar, move along. That mindset doesn't keep you going at 4am. They want people who believe with all their heart that the work they're doing is critical. That it helps keep America's communities safe, and its wildlands healthy. And if a person is committed to a cause greater than themselves, that's a great attribute to have. And that's what they want to hire.
Physical Requirements:

For More Information About Smokejumpers:
"Jumping Fire" by Murry Taylor
"Young Men & Fire" by Norman Maclean
"Fire on the Mountain" by John Maclean
McCall Smokejumper – Ramona Atherton – Hotshot Fitness Interview
National Smokejumper Association
2017 National Smokejumper Program Season Summary